This probably won't be as thorough as I'd like it to be, but I did want to take a quick glance at Winthrop's men's basketball schedule that was released yesterday (Sept. 18th).  It was released on Twitter (and possibly Instagram, I'm not on there) via the official WU men's basketball feed, though there hasn't been a true press release and the schedule isn't yet showing on the WU website.  But if you haven't seen it yet, you can see it here: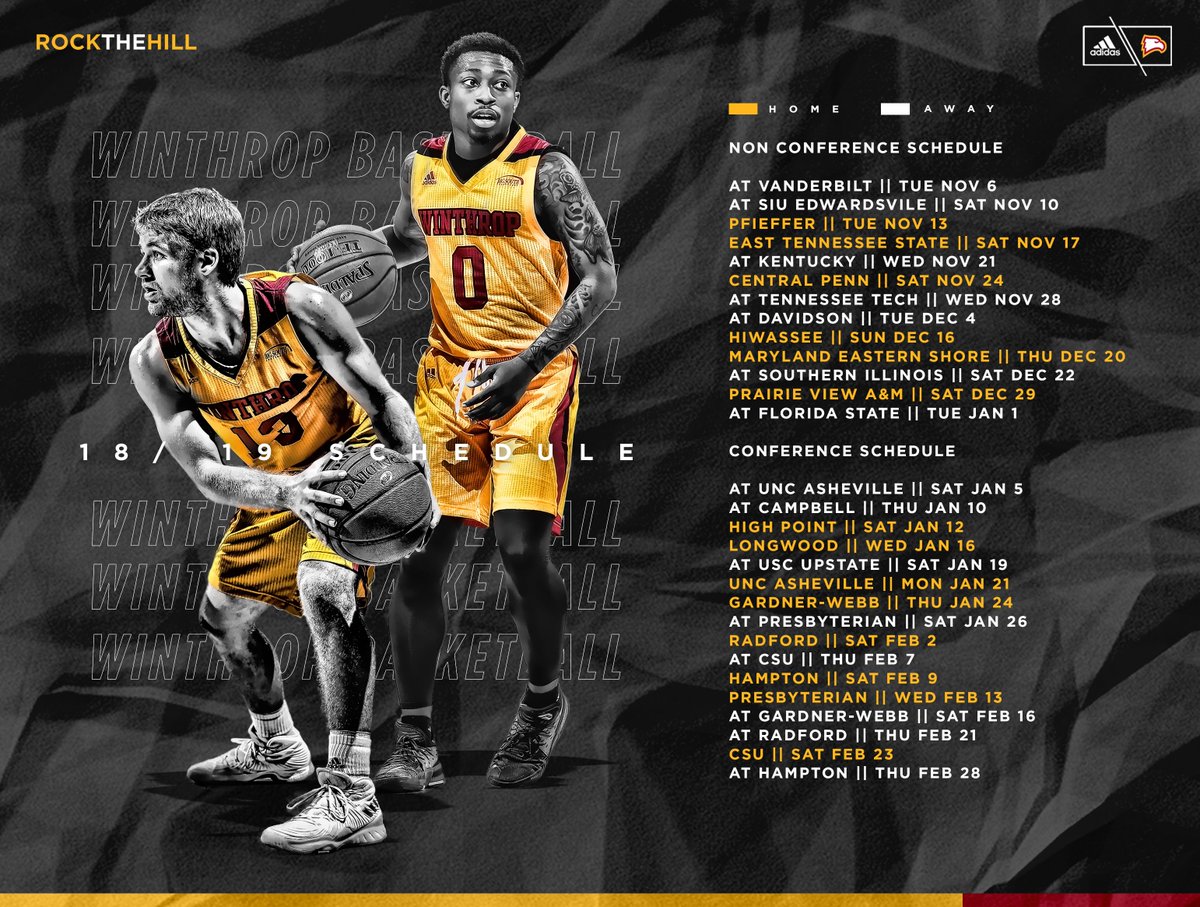 Non-Conference Games:
11/6 – @ Vanderbilt (last season: 12-20 overall; 6-12 in SEC; KenPom/RPI ranking: 91/131): Vandy is the only current SEC team that the Eagles have never faced.  WU will open the season in one of the strangest venues in the country (court is slightly elevated and the benches are on the baselines).  Vandy wasn't very good last year, but Bryce Drew is bringing in the #13 ranked recruiting class (according to 247sports).  But with the Commodores likely relying heavily on a few 4 & 5 star freshmen, they may take a little while to gel, so this could be an opportunity for WU to knock off a major conference team.
Nov. 10 – @ SIU-Edwardsville (last season: 9-21 overall; 5-13 in OVC; KenPom/RPI ranking: 318/288): SIUE is another new opponent, and they have only been a D1 team for about a decade…road games are never sure things, but this is a game that WU should be favored in, though I honestly know nothing about the team that the Cougars are bringing back from last season.
Nov. 13 – Pfeiffer (D-III): WU played Pfeiffer to start the 2014-15 season, but the Falcons were a D-II team at that point and transitioned to D-III last season.  There could be records broken in this home opener, as Pfeiffer plays a very up-tempo style (they averaged more possessions/game than the Duggar-era VMI teams) and shoot a ton of threes.  They averaged 110 points/game last season.  WU's top-scoring game in program history is 132 points vs. Morris in 1985….that record may get tested in this one.
Nov. 17 – East Tennessee State (last season: 25-9 overall; 14-4 in SoCon; KenPom/RPI ranking: 93/93): WU's Homecoming opponent is no pushover, as one of the top programs in the SoCon comes to town.  Steve Forbes is known as one of the top young coaches in the nation.  He has some key seniors to replace, but the Buccaneers are sure to still be talented and dangerous.
Nov. 21 – @ Kentucky (last season: 26-11 overall; 10-8 in SEC; KenPom/RPI ranking: 17/12): Some publications have the Wildcats as the #1 team in the nation going into the season…so needless to say, this will be a major challenge for the Eagles on Thanksgiving Eve at Rupp Arena.
Nov. 24 – Central Penn (USCAA) – These two teams faced each other last season, with WU winning 106-65.
Nov. 28 – @ Tennessee Tech (last season: 19-14 overall; 10-8 in OVC; KenPom/RPI ranking: 219/160): WU has never faced Tennessee Tech.  The Golden Eagles have been a bit up and down in the 7 seasons that Steve Payne has been head coach, and I'm not sure how good/bad they are expected to be this year.
Dec. 4 – @ Davidson (last season: 21-12 overall; 13-5 in A-10; KenPom/RPI ranking: 43/56): I wish WU and Davidson faced each other every year.  This will be a tough test for WU, as the Wildcats are very talented, even with Peyton Aldridge graduating.  Kellan Grady and Jon Axel Gudmundsson anchor a very efficient offensive team and you know that Bob McKillop will have this team coached well.
Dec. 16 – Hiwassee (NCCAA) – Yeah, I don't know anything about them either (though I just learned that Hiwassee is located in Madisonville, TN)…hopefully will be a good chance for WU to knock off the rust after the exam break.
Dec. 20 – Maryland-Eastern Shore (last season: 7-25 overall; 3-13 in MEAC; KenPom/RPI ranking: 349/347): UMES was one of the worst teams in D1 last season, and that likely caused the contract of head coach Bobby Collins to not be renewed in late March.  In a curious decision, UMES named Clifford Reed (who was the associate head coach under Collins) the interim head coach for the entire 2018-19 season, and they will look to hire their next permanent coach after this season is completed.
Dec. 22 – @ Southern Illinois (last season: 20-13 overall; 11-7 in MVC; KenPom/RPI ranking: 135/97): SIU came to the Coliseum last season to open the season, and handled the Eagles pretty easily, 81-66.  The Eagles will try to get revenge in Carbondale this year, though there will be a quick turnaround from a home game two days before this leading into the trip to IL.
Dec. 29 – Prairie View A&M (last season: 16-18 overall; 12-6 in SWAC; KenPom/RPI ranking: 269/245): Prairie View finished tied for 2nd last year in the SWAC.  This is another new opponent for the Eagles, and I can't say I know much about their expectations for this season.  This is right in the middle of Winter Break, so the crowd will likely be very light for this one.
Jan. 1 – @ Florida State (last season: 23-12 overall; 9-9 in ACC; KenPom/RPI ranking: 27/35): WU closes out the non-conference with a very difficult matchup against the Seminoles, who will likely start the season as a ranked team.  Maybe the FSU players will party hard on New Year's Eve…
As a whole, this seems to be a pretty decent non-conference slate, with a good balance of opponents.  The home slate doesn't really have any names that wow you, but that's nothing new.  ETSU, while not having a big name, is a very good opponent to bring to the Coliseum, especially for Homecoming.  It is a bit odd, though, that Davidson is the only D1 team from the states of SC/NC/GA/VA that WU faces in the non-conference portion of the schedule, so if you are the type of person that likes to travel around to follow the Eagles, this isn't an easy schedule to accommodate that, with Davidson being the only nearby foe.
Big South Conference Games:
I won't break down the full conference schedule, but it is important to note that the league (which stands at 11 members) is only scheduling 16 conference games for each team this season.  This is likely a residual effect of Liberty leaving the conference back in June.  My assumption is that the Big South was going to have the 12-team division setup when they thought that the Flames were still going to be around.  With that setup, a 16-game schedule works pretty well.  With LU leaving with so little notice, Big South teams likely already had some non-conference games lined up, making a transition to 18 or 20 conference games impossible at that point.  So this year, scheduling will be very uneven, as each team will play 4 opponents once, and 6 opponents twice.  For WU, the Eagles will not have to travel to Longwood or High Point this season.  Also, Campbell and USC Upstate will not be coming to the Coliseum.